The Canterbury Guitar Duo is Amanda Monaco on electric guitar and Kim Perlak on classical guitar. They take pop, jazz, and classical repertoire – mostly pieces by living composers – and arrange it for jazz and classical guitar. They choose material focused on strong melodies and demonstrate, both in performance and in clinics, how to arrange it for two guitars coming from different traditions.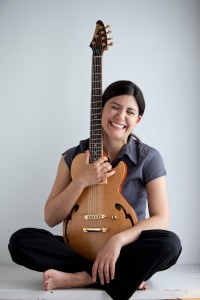 Amanda Monaco, Bio
Grammy-nominated jazz guitarist and composer Amanda Monaco was born in New Haven, Conn. and has lived in New York City since 1995. Amanda is an Assistant Professor at Berklee College of Music and has also taught at New School University and the National Guitar Workshop. She has an M.A. from the City College of New York, a B.Mus from William Paterson University and has studied with Ted Dunbar, Kenny Barron, Rufus Reid, and Gene Bertoncini.
Amanda has recorded four CDs as a leader/co-leader, employing a variety of styles in her music. Her latest CD, The Pirkei Avot Project, Vol. 1, sets verses of ancient rabbinic text to original compositions for voice, guitar, recorder, bass and percussion, ranging from rubato tone poems to an off-kilter waltz in the style of Tom Waits. In her more "traditional" jazz projects, Amanda writes music that sounds like what might have happened if Miles Davis were musical director of The Muppet Show: free-bop sensibilities combined with through-composition equal parts textural, adventurous, and whimsical. Amanda performs with classical guitarist Kim Perlak in the Canterbury Guitar Duo, a group that focuses primarily on pop, jazz, and classical music written by living American composers.
Amanda has performed at the Blue Note, The Kennedy Center for the Performing Arts, and the JVC and Winter Jazz Festivals, as well as other venues in the United States, Europe, and the Middle East and has shared the stage with musicians such as Milt Hinton, Cindy Blackman-Santana, and Fred Ho. Amanda is a resident musician at Congregation B'nai Jeshurun in New York City, playing both modern and traditional stringed instruments while participating in recordings and workshops of liturgical music. In 2012, Amanda founded the Queens Jazz OverGround, an organization committed to bringing jazz to the borough of Queens and beyond through performances and education. Amanda is the author of Jazz Guitar for the Absolute Beginner (Alfred Publishing).
Amanda plays a Brian Moore guitar and D'Addario Strings.
———————————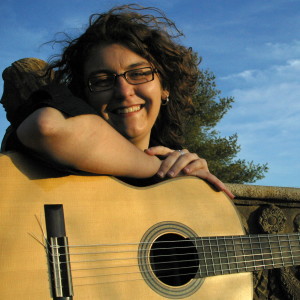 Kim Perlak, Bio
With performances that are deeply personal and express a breadth of tradition, guitarist Kim Perlak has been recognized as an inspired voice in new American music. Her playing was praised by The Austin-American Statesman as, "thoughtful, enchanting, vivid…a songwriter's circle without the lyrics," and by another Austin reviewer as, "moving…the most patriotic thing I've experienced in many months."
Kim's versatile and inclusive approach to the instrument embraces new composition, scholarship, and public service. Her performances of new classical works and collaborations with jazz and traditional players have been featured on National Public Radio, at the Yale Guitar Extravaganza, and at the National Guitar Workshop. Her work combining performance, American history, and outreach has been funded through grants from the Carolina Institute for Leadership and Engagement in Music, the Center for African American Southern Music, and the Yale Alumni Ventures program. Kim is the founder of the concert series "Ben & I Play for Peace," which has raised $25,000.00 for the Wounded Warrior Project, the Veterans' Guitar Project—Austin, and Wheelchairs for Iraqi Kids, and was officially recognized by the U.S. House of Representatives.
Kim Perlak is the Assistant Chair of the Guitar Department at the Berklee College of Music. She serves as Editor-in-Chief of Soundboard, the Journal for the Guitar Foundation of America. Kim performs in the Canterbury Guitar Duo with jazz guitarist Amanda Monaco.
Kim holds degrees from The University of Texas at Austin (DMA '08), Yale University School of Music (MM '01), Stetson University (BM '98). She plays guitars by Thomas Humphrey and Kirk Sand, and endorses D'Addario Strings.